BIG G: FROM CARIBBEAN LIVING TO INTERNATIONAL STARDOM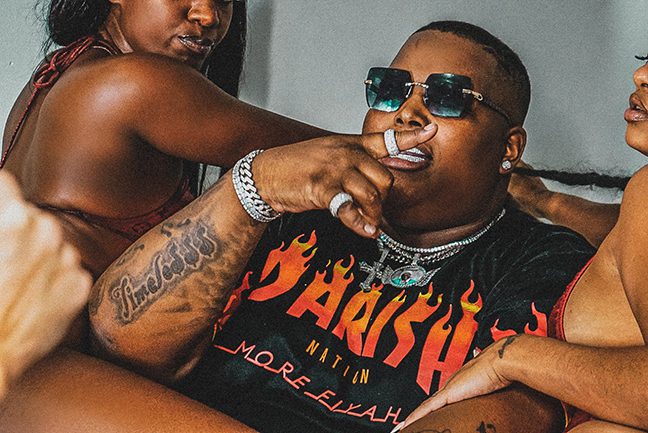 Trinidad and Tobago is known to leave its mark in the international music scene, and Big G is continuing the tradition.  
Garth Springer, Trinidad and Tobago born, Miami Florida resident, is the new name buzzing in the rap game. Known to the hip-hop community by his rap moniker Big G, he has been making his way into the mainstream world of music. Migrating from Trinidad and Tobago to America, Big G was captivated with the sound of Slim Shady and Nelly and it was an instant connection with hip-hop. From there events fell into place that led him further down the path to becoming a talented and respected rapper himself.
His rap career began sprouting during freestyle sessions with the boys. One of which, Dante, pushed him to take his talent to the next level after realizing his potential and depth of lyricism. One day, he brought over a portable studio and Big G began making full songs and growing a strong fanbase. What transpired after was a future where Big G created his own lane in hip-hop.  
He went from his first rhymes on "Good Girls," a track between him and the boys, to his hit single heating up the streets, B L ! C K Y. The track engineered by Dshim and filmed by Dshim and Alexia The Goat Shot It, received such high praises that it gained Big G a feature on World Star Hip Hop. The music video quickly began spreading, accumulating 150k YouTube views and over 50k Streams. It even caught the attention of viral podcast, No Jumper's host, Adam 22, who liked the video and placed Big G on his radar to be next up in the rap game.  
With his solid team Dshim, Kendon, Debo, Alexia The Goat Shot It, his fans, and his brother Tek Vybez, Big G continues to extend his reach and supply listeners with bangers. With a dream collab of him and Young Thug, Big G is aiming high and putting the work in to achieve it all. Be on the look out for more heat from Big G, and stream his music via his YouTube:
Follow Big G on Instagram: https://www.instagram.com/bigg646/
Natalia is a Rap and Hip Hop enthusiast. After graduating from The New School of New York's Public Relations Program, she decided to dedicate her life to the music publishing business and to the discovery of new talent. She helps new artists gain exposure to the masses via online marketing and publications.
The post BIG G: FROM CARIBBEAN LIVING TO INTERNATIONAL STARDOM appeared first on Raptology: Rap News – Rap Music – Rap Contests – Rap Articles.
BIG G: FROM CARIBBEAN LIVING TO INTERNATIONAL STARDOM
Linkz Radio is a Division of
❤Shy Paris Entertainment ||||| International Spectacular Events, Stellar Event Planning and Management, & Celebrity Booking Agency. Please contact us as we can provide you with both international and/or local renowned full service event planning and management, & celebrity bookings at shyparisentertainment@gmail.com or
CONTACT: Email: shyparisentertainment@gmail.com
Facebook: ShyParis Youtube: @Shyparis Twitter: @Shyparisent Instagram: shyparisentertainment Whatsapp: 1-437-259-3399
✶✶✶✶✶✶✶✶✶✶✶✶✶✶✶✶✶✶✶✶✶✶✶✶✶✶✶✶✶✶✶✶✶✶✶✶✶✶✶✶✶✶✶✶✶✶✶✶✶✶
SHY PARIS ENTERTAINMENT COMPANIES
✅ ShyParisentertainment.co – https://shyparisentertainment.co
✅ Shyparisbookings.com – https://shyparisbookings.com
✅ Linkzradio.com – https://linkzradio.com
✅ Klublinks.com – https://klublinks.com
✅ Shypariswebdesign.com – https://shypariswebdesign.com
✅ ❤️ Shyparis – htttps://shyparis.com❤️
Powered by WPeMatico