BLAKE YUNG BRINGS A NEW SOUND TO HIP-HOP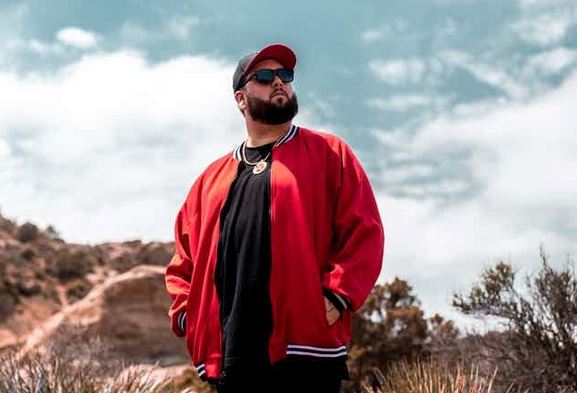 While many artists aim to come up by riding the wave, Blake Yung outclasses his competition by creating his own.
Coming out of South Carolina, Blake Yung's transition into hip-hop was destiny waiting to happen. Before reaching to the buzzing artist he is now, he was a sports fanatic in his earlier years in middle school. His world would change when his parents got him an acoustic guitar for his 15th birthday. Blake's focus switched from sports to music, quitting from every team to spend time writing songs and riffs in his bedroom. His love for music was further inspired by the golden 80's and 90's rock and roll era with legendary bands like Guns N Roses, Motley Crue, Nirvana, and singer Axl Rose. Their influence on his demeanor and style was evident. It was only 3 or 4 years later that Blake would begin discovering his own voice. His hip-hop sound came about when the band he played guitar for split, resulting in him clocking in countless hours in the studio recording rap music as a pass time. It was then that he began gaining a passion for rappers like Biggie Smalls who were masters at crafting bars. What started then, turned into his melodic flows over the course of 4 to 5 years upon experimentation with different sounds and techniques.  
Blake Yung would rebrand himself, changing his original artist moniker from Capo Cheeze to the Blake Yung the world knows today. This change also came with his migration to LA. While South Carolina shaped him into a real go getter and a true hustler, LA brought him closer to the music world, granting access to better studios and more connections with persons sharing his ambitions and goals.  
Blake's hard work would bring its returns when he linked with longtime friend and South Carolina neighbor, Supah Mario. The super producer is known for his works with icons like Drake on his more life project but was an early supporter of Blake that even produced his first rap song. After vibing on singles like Euphoria & Picture Perfect, their chemistry was undeniable and led to the idea of releasing a joint project produced entirely by Supah Mario.  
The project, titled Leader of the Lost Souls, was inspired by Blake's passion for the current climate the world is in. With the hurt and depression plaguing the current generation, Blake aims to use his voice to provide some comfort and change the perception of society that shun their use of substances to cope with their mental health. Blake is no stranger to their pain and wants his music to speak to those feeling alone and unheard. Blake uses the recent single Dronez off his upcoming project as the first step to achieving this purpose. The track, produced by Supah Mario, gives off a trippy vibe mixed with deep lyrics and Blake's signature melodic style. The accompanying music video is equally fresh, adding to the promised new sound of Leader of the Lost Souls.  
Blake Yung is set on standing out among everyone sounding the same with the album. He's giving his fans the best version of him, one that makes music he's passionate about, rather than what people want to hear. With a work ethic inspired by that of his dad, Blake Yung is intent on collaborating with greats like Young Thug. His vision lies in longevity in the game, creating timeless music that breaks away from the trends while staying true to his grind and come up. Vibe his new single Dronez and prepare for his upcoming Lord of the Lost Souls album by following his socials:  
Instagram: https://www.instagram.com/itsblakeyung/  
Twitter: https://twitter.com/itsblakeyung  
---
Hulda Hicks was born in Brooklyn, NY in the late '70s, at the time when Hip-Hop music was just emerging as an art form. Her entire life was influenced by the culture, having grown up in the epicenter of the creative movement.
As a trained musician and vocalist, Hulda got exposed to the industry in her twenties and has worked on projects with iconic figures such as the Chiffons, the Last Poets, and Montell Jordan, to name a few. Her passion for music extended past the stage on to the page when she began to write ad copy and articles as a freelancer for several underground publications.
A written review from "Jubilee Huldafire" is as authentic as it gets, hailing from one creative mind that has a unique voice, on paper and in person.
The post BLAKE YUNG BRINGS A NEW SOUND TO HIP-HOP appeared first on Raptology: Rap News – Rap Music – Rap Contests – Rap Articles.
BLAKE YUNG BRINGS A NEW SOUND TO HIP-HOP
Linkz Radio is a Division of
❤Shy Paris Entertainment ||||| International Spectacular Events, Stellar Event Planning and Management, & Celebrity Booking Agency. Please contact us as we can provide you with both international and/or local renowned full service event planning and management, & celebrity bookings at shyparisentertainment@gmail.com or
CONTACT: Email: shyparisentertainment@gmail.com
Facebook: ShyParis Youtube: @Shyparis Twitter: @Shyparisent Instagram: shyparisentertainment Whatsapp: 1-437-259-3399
✶✶✶✶✶✶✶✶✶✶✶✶✶✶✶✶✶✶✶✶✶✶✶✶✶✶✶✶✶✶✶✶✶✶✶✶✶✶✶✶✶✶✶✶✶✶✶✶✶✶
SHY PARIS ENTERTAINMENT COMPANIES
✅ ShyParisentertainment.co – https://shyparisentertainment.co
✅ Shyparisbookings.com – https://shyparisbookings.com
✅ Linkzradio.com – https://linkzradio.com
✅ Klublinks.com – https://klublinks.com
✅ Shypariswebdesign.com – https://shypariswebdesign.com
✅ ❤️ Shyparis – htttps://shyparis.com❤️
Powered by WPeMatico