Cxncvpt channels his inner darkness to bring a new trap sound to hip hop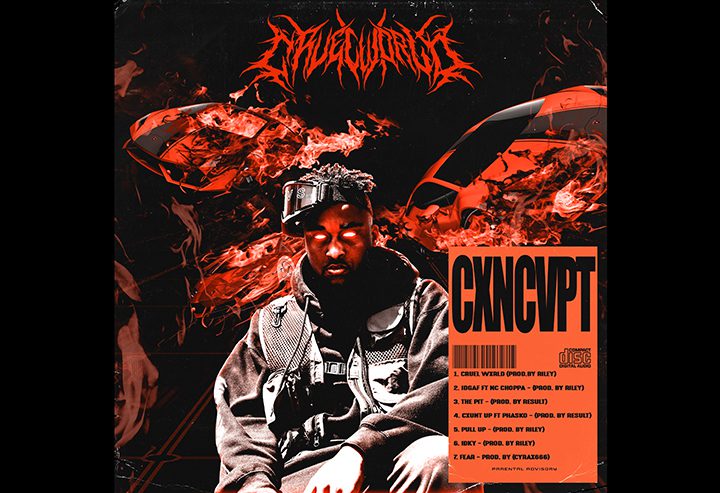 Cxncvpt is a rapper on the rise that is gaining popularity for his dark themed music with real life experiences. 
Resident to East Camden, up and coming rapper, Cxncvpt has a hold on the underground hip hop industry. He has been on a steady rise since rapping from the base of his living room. With dedication to his craft and pouring emotion filled lyricism over heavy distorted 808's, he has garnered the support of a growing fanbase that continues to push him further to the top. Cxncvpt was drawn closer to the dark side of rap through influences like Night Lovell, Scarlxrd, Rick Ross, Pusha T, and Kanye West, and just like them, he continues to bring a different sound to the rap game, creating a dark atmosphere that reflects what goes on around him.  
Cxncvpt released his first music video for the single "WXLK" in mid-November of 2019 and it has been receiving praise for its gritty and murky composition. The track holds production credit from well-known producer, Weaky, and Cxncvpt does it justice with his dark trap sound. 
View this post on Instagram
Cxncvpt aims to further his takeover throughout 2021 and is a definite artist that should be on any rap fan's radar. Currently, he is working on his upcoming EP, "CRUELWXRLD" scheduled for release at the end of April. The project promises features from popular local artists from his city and an even more in-depth blend of sound and energy from the Camden rapper.  
Follow Cxncvpt for more of his unique deep music and stream his catalog while awaiting his upcoming titles.  
Instagram: https://www.instagram.com/cxncvpt/ 
Imo Wimana Chadband, known to the creative world as Wimana, is a music enthusiast, songwriter, poet, author, and screenwriter, with 10+ years' experience working in the creative world.
His love for hip-hop/rap music and writing was discovered in his years at High School, and the rest is as they say, history. Wimana's passion for journalism and writing would lead to him releasing several creative projects personally, as well as provide writing services professionally for clients globally.
He has written and curated content for various blogs and websites with his unique writing style, and continues to expand his arsenal to give readers the best experience through his work.
The post Cxncvpt channels his inner darkness to bring a new trap sound to hip hop appeared first on Raptology: Rap News – Rap Music – Rap Contests – Rap Articles.
Cxncvpt channels his inner darkness to bring a new trap sound to hip hop
Linkz Radio is a Division of
❤Shy Paris Entertainment ||||| International Spectacular Events, Stellar Event Planning and Management, & Celebrity Booking Agency. Please contact us as we can provide you with both international and/or local renowned full service event planning and management, & celebrity bookings at shyparisentertainment@gmail.com or
CONTACT: Email: shyparisentertainment@gmail.com
Facebook: ShyParis Youtube: @Shyparis Twitter: @Shyparisent Instagram: shyparisentertainment Whatsapp: 1-437-259-3399
✶✶✶✶✶✶✶✶✶✶✶✶✶✶✶✶✶✶✶✶✶✶✶✶✶✶✶✶✶✶✶✶✶✶✶✶✶✶✶✶✶✶✶✶✶✶✶✶✶✶
SHY PARIS ENTERTAINMENT COMPANIES
✅ ShyParisentertainment.co – https://shyparisentertainment.co
✅ Shyparisbookings.com – https://shyparisbookings.com
✅ Linkzradio.com – https://linkzradio.com
✅ Klublinks.com – https://klublinks.com
✅ Shypariswebdesign.com – https://shypariswebdesign.com
✅ ❤️ Shyparis – htttps://shyparis.com❤️
Powered by WPeMatico