DYYNVMIC hits hard with his smooth running single 'Three Wives' featuring Girls Like Girls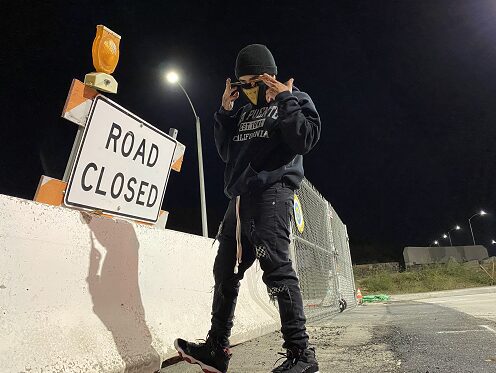 Californian Hip Hop artist DYYNVMIC's sound molded through their coming of age during the 2000's era of Hip Hop. Their lyrical style formed around their commitment to convey meaning and offer connection.
His career kicked off in 2012 when he became one-half of the Rap duo, Mystic Nerds, but it wasn't until he started pursuing his solo career years after that the airwaves truly got the best of his ingenuity.
After a series of successful releases including a mixtape, remixes, and singles, DYYNVMIC dropped their debut EP, 'Road Work' featuring the standout single 'Three Wives' which features the harmonically hypnotic vocals from Girls Like Girls.
While the title to the track may sound like a polyamory brag, Three Wives is a chillingly compelling work of lyrical ingenuity which sees DYYNVMIC exhibit the best of his metaphorically perception-shifting writing skills.
Here's what he had to say about the release
"Three Wives is the 3rd track off of my first EP "Road Work." Each wife represents a different form of addiction. Coming from a family that has dealt with alcohol abuse and having other personal experiences with substance abuse, I sat down in the studio and wrote this song to express the struggle that one deals with when combating this issue."
To say that Three Wives is powerful almost feels like a crass understatement. The way he locks into the emotions surrounding addiction by fabricating characters showcases an unparalleled ability to evoke emotion. In short, it's a conceptual Hip Hop masterpiece.
Girls Like Girls' vocals bring a mesmeric touch to the smooth and sobering mix, right from the intro, she leads you into the transfixing track which is quickly becoming a fan favourite. It's easy to see why.
Fans of Eminem, 50 Cent, Drake and Kendrick Lamar will definitely want to hit play.
Three Wives is available to stream on Spotify where you can also listen to their Road Work EP in full.
Natalia is a Rap and Hip Hop enthusiast. After graduating from The New School of New York's Public Relations Program, she decided to dedicate her life to the music publishing business and to the discovery of new talent. She helps new artists gain exposure to the masses via online marketing and publications.
The post DYYNVMIC hits hard with his smooth running single 'Three Wives' featuring Girls Like Girls appeared first on Raptology: Rap News – Rap Music – Rap Contests – Rap Articles.
DYYNVMIC hits hard with his smooth running single 'Three Wives' featuring Girls Like Girls
Linkz Radio is a Division of
❤Shy Paris Entertainment ||||| International Spectacular Events, Stellar Event Planning and Management, & Celebrity Booking Agency. Please contact us as we can provide you with both international and/or local renowned full service event planning and management, & celebrity bookings at shyparisentertainment@gmail.com or
CONTACT: Email: shyparisentertainment@gmail.com
Facebook: ShyParis Youtube: @Shyparis Twitter: @Shyparisent Instagram: shyparisentertainment Whatsapp: 1-437-259-3399
✶✶✶✶✶✶✶✶✶✶✶✶✶✶✶✶✶✶✶✶✶✶✶✶✶✶✶✶✶✶✶✶✶✶✶✶✶✶✶✶✶✶✶✶✶✶✶✶✶✶
SHY PARIS ENTERTAINMENT COMPANIES
✅ ShyParisentertainment.co – https://shyparisentertainment.co
✅ Shyparisbookings.com – https://shyparisbookings.com
✅ Linkzradio.com – https://linkzradio.com
✅ Klublinks.com – https://klublinks.com
✅ Shypariswebdesign.com – https://shypariswebdesign.com
✅ ❤️ Shyparis – htttps://shyparis.com❤️
Powered by WPeMatico