Tommy Danger – The Now and Laterman: Motivation + Confidence = Success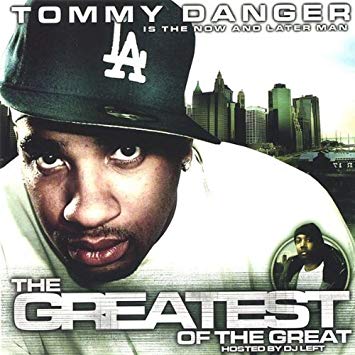 The Harlem, New York native Tommy Danger – The Now and Laterman, started making music to escape the harsh reality of growing up in a broken household. Using his music as a conduit, Danger vowed to use his platform to motivate and inspire others who may have had similar life experiences.
With 20 years of music-making under his belt, 13 independent project releases, a weekly podcast, and an eBook entitled "Motivation and Confidence Vol. 1 – The 7 Steps", he epitomizes hard work and dedication to the fullest extent.
With an energetic stage presence, Danger enjoys performing at more intimate music venues so he can build a stronger relationship with his audience. Always on grind-mode, this is where he connects with his die-hard music fans and everyone else in attendance.
Taking inspiration from Jay-Z and Slick Rick, his latest single "Grind" delivers that signature East Coast, New York City sound we grew accustomed to hearing. A heavy drum beat fused with an eerie piano melody is the perfect recipe to compliment his laid back delivery and flow. The music video for "Grind" is currently available on Youtube.
Jason Soto is a HipHop enthusiast with love for everything generated by the culture. He fell in love with music during the first decade of his life and spent most of his teenage years as a DJ. He began to dabble in writing and rapping after being introduced to battle rap and found the art form to be extremely exciting and innovative. As an adult, his own personal interest has lead him to become a freelance columnist, a HipHop ghostwriter, and a cover art designer.
The post Tommy Danger – The Now and Laterman: Motivation + Confidence = Success appeared first on Raptology: Rap News – Rap Music – Rap Contests – Rap Articles.
Tommy Danger – The Now and Laterman: Motivation + Confidence = Success
❤Shy Paris Entertainment ||||| Promotion and Booking Agency. For the latest Reggae / Dancehall / Rnb Music. Please contact us for any bookings, interviews, endorsements or submission of their music at shyparisentertainment@gmail.com or CONTACT: Email: shyparisentertainment@gmail.com Facebook: ShyParis Youtube: @Shyparis Twitter: @Shyparisent Instagram: shyparisentertainment Whatsapp: 1-437-259-3399 ✶✶✶✶✶✶✶✶✶✶✶✶✶✶✶✶✶✶✶✶✶✶✶✶✶✶✶✶✶✶✶✶✶✶✶✶✶✶✶✶✶✶✶✶✶✶✶✶✶✶
SHY PARIS ENTERTAINMENT COMPANIES
✅ ShyParisentertainment.co – https://shyparisentertainment.co
✅ Shyparisbookings.com – https://shyparisbookings.com
✅ Linkzradio.com – https://linkzradio.com
✅ Klublinks.com – https://klublinks.com
✅ Shypariswebdesign.com – https://shypariswebdesign.com
✅ ❤️ Shyparis – htttps://shyparis.com❤️