Cardi B Defends Offset, Says He's 'Not a Bad Man'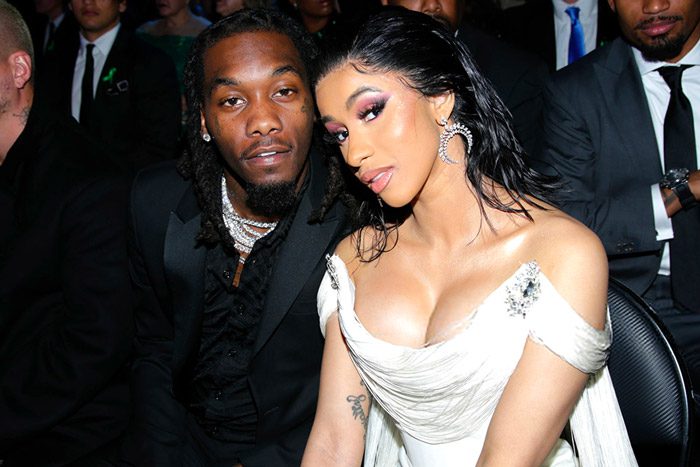 Cardi B may be divorcing Offset, but she won't let people disparage his name.
The "WAP" rapper took to Twitter to defend her estranged husband on Thursday after a fan called him a "bad man."
"He a dumbass not a bad man," she wrote in a since-deleted tweet before revealing how the Migos rapper helped her career.
"…cause out of everybody that tried to steal, finesse me into working with their brand for less he got people coming for me with CORRECT CONTRACTS and never ask for a dollar or benefit like every1 else. Nikkas is nikka but a bad personality he not."
She continued to clap back at those who tried to come for Kulture's father. "I don't give a f**k if you don't like him," she tweeted and deleted. "I don't talk to him but you not going to disrespect my child father. I will slap the shit out of you in curtesy of Kulture ..lf he die , go broke , you not the one that's going to raise my kid & you not the 1 who who pays for her shit."
The comments come less than a month after Cardi filed for divorce from her husband of three years, saying the marriage is "irretrievably broken" and "there are no prospects for a reconciliation."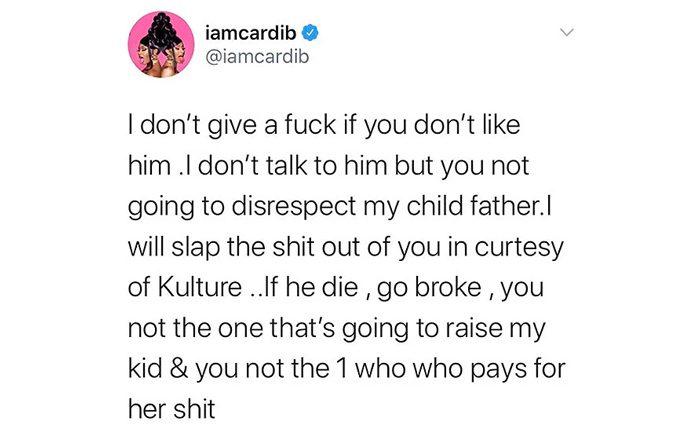 "I didn't wait until he cheated on me again," she said on OnlyFans. "I didn't wait [for] another controversy with him being involved. I decided to leave. If I wanted to stay, I could have stayed. I decided to leave."
Since filing for divorce, Cardi says men have been sliding into her DMs, but she's not looking for a relationship. "My DMs are flooded. I don't actually want to date nobody. I'm so focused on my business that it's crazy."
Offset has not directly commented on the divorce filing, but earlier this week, he liked a post from Cardi where she declared herself "single, bad and rich."
Natalia is a Rap and Hip Hop enthusiast. After graduating from The New School of New York's Public Relations Program, she decided to dedicate her life to the music publishing business and to the discovery of new talent. She helps new artists gain exposure to the masses via online marketing and publications.
The post Cardi B Defends Offset, Says He's 'Not a Bad Man' appeared first on Raptology: Rap News – Rap Music – Rap Contests – Rap Articles.
Cardi B Defends Offset, Says He's 'Not a Bad Man'
Linkz Radio is a Division of
❤Shy Paris Entertainment ||||| International Spectacular Events, Stellar Event Planning and Management, & Celebrity Booking Agency. Please contact us as we can provide you with both international and/or local renowned full service event planning and management, & celebrity bookings at shyparisentertainment@gmail.com or
CONTACT: Email: shyparisentertainment@gmail.com
Facebook: ShyParis Youtube: @Shyparis Twitter: @Shyparisent Instagram: shyparisentertainment Whatsapp: 1-437-259-3399
✶✶✶✶✶✶✶✶✶✶✶✶✶✶✶✶✶✶✶✶✶✶✶✶✶✶✶✶✶✶✶✶✶✶✶✶✶✶✶✶✶✶✶✶✶✶✶✶✶✶
SHY PARIS ENTERTAINMENT COMPANIES
✅ ShyParisentertainment.co – https://shyparisentertainment.co
✅ Shyparisbookings.com – https://shyparisbookings.com
✅ Linkzradio.com – https://linkzradio.com
✅ Klublinks.com – https://klublinks.com
✅ Shypariswebdesign.com – https://shypariswebdesign.com
✅ ❤️ Shyparis – htttps://shyparis.com❤️
Powered by WPeMatico